The Scottsdale Unified School District has 31 schools serving about 25,668 students. More than 3,862 persons are employed by the district, including about 1,551 teachers.
The district celebrated its 100th anniversary in 1996. Its boundaries include most, but not all, of the city of Scottsdale, almost all of the town of Paradise Valley, a section of the city of Phoenix and a section of the city of Tempe.
Enroll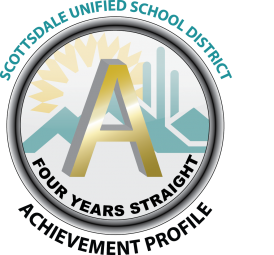 The Arizona Department of Education (ADE) released its new A-F Achievement Profiles for the 2013-14 school year.
Scottsdale Unified School District (SUSD) did well; the District received an A for the fourth consecutive year. Nineteen schools received the highest grade of an A.
Why choose SUSD?
We have special programs for gifted students, an International Baccalaureate program and offerings, such as band and strings for children as young as the fourth grade, that aren't available in most other districts.
More Info!
For easy access to additional information about Scottsdale School District click here.